Strengthening lungs with incentive spirometer
September 12, 2014 · Saint Petersburg
Charlie has had a good night tonight. He only de-sat'd once with his O2 dropping into the 80's. The nurses bagged him to give him some extra O2 & his O2 came right back up & has remained above 90 for the rest of my visit.
He is in good spirits tonight & looks better to me. His O2% is at 40% & peep is at 8 so we are well on our way to getting off this vent!
I will be leaving around 11p…

…Tina Kendrick at Bay front Hospital.
For those that may not know; I was not able to breathe, on my own, for several months after breaking my neck. Clinical term, "ventilator dependent." As a C-3 complete quadriplegic a tracheostomy is usually a part of everyday life but through rehabilitation and respiratory therapists that cared enough to work with me I was able to be weaned off the vent.
Strengthening lungs with incentive spirometer:
This post identifies one of the tools I used to be able to breathe on my own. Which, also equaled eating regular food, drinking fluids, and being able to talk to my love ones. If you have had a tracheostomy you know the feeling of hopelessness when you can't talk to someone (cont. below)…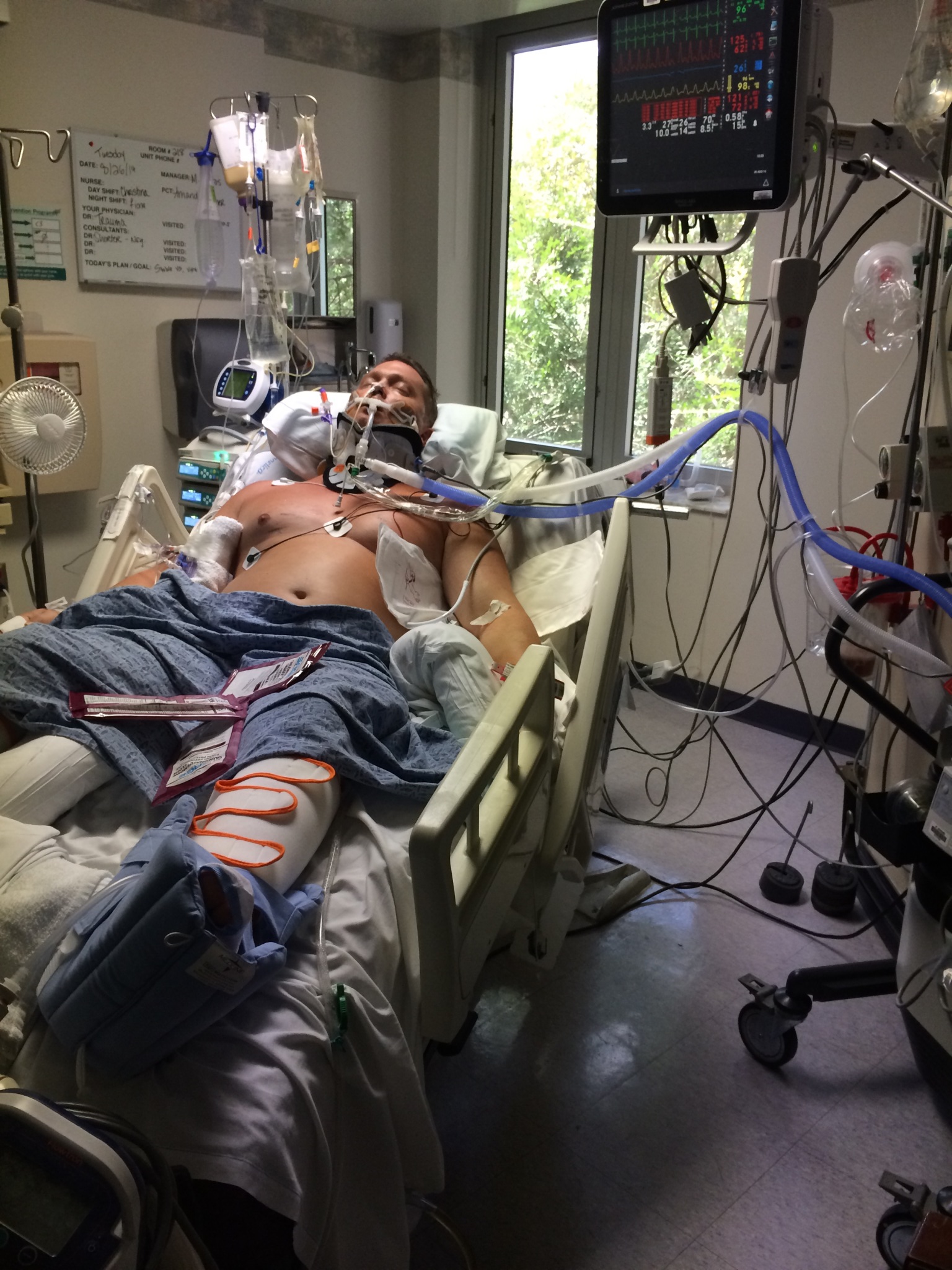 Strengthening lungs with incentive spirometer
I have mixed feelings Strengthening lungs with incentive spirometer but the one thing I know for sure is that it works. However monotonous and ridiculous it may be to suck on this thing in the hospital or at home; it is pivotal in the recovery of anyone who has lost or deteriorated lung function.
Using your incentive spirometer after surgery will help you keep your lungs clear and will help keep your lungs active throughout the recovery process, as if you were performing your daily activities.(Continue on for step-by-step instructions and video!)
Guess what? You can buy on Amazon!

How to Use the Incentive Spirometer:
-Sit on the edge of your bed if possible, or sit up as far as you can in bed.
-Hold the incentive spirometer in an upright position.
-Place the mouthpiece in your mouth and seal your lips tightly around it.
-Breathe in slowly and as deeply as possible. Notice the yellow piston rising toward the top of the column. The yellow indicator should reach the blue outlined area.
-Hold your breath as long as possible. Then exhale slowly and allow the piston to fall to the bottom of the column.
-Rest for a few seconds and repeat steps one to five at least 10 times every hour.
-Position the yellow indicator on the left side of the spirometer to show your best effort. Use the indicator as a goal to work toward during each slow deep breath.
-After each set of 10 deep breaths, cough to be sure your lungs are clear. If you have an incision, support your incision when coughing by placing a pillow firmly against it.
-Once you are able to get out of bed safely, take frequent walks and practice the cough.
EZ-PZ
Strengthening lungs with incentive spirometer video
Guess what? You can buy on Amazon! Strengthening lungs with incentive spirometer
References
Strengthening lungs with incentive spirometer
Agency for Healthcare Research and Quality. National Guideline Clearinghouse:
https://my.clevelandclinic.org/health/articles/how-to-use-an-incentive-spirometer
© Copyright 1995-2015 The Cleveland Clinic Foundation. All rights reserved.
This information is provided by quadcapable.com and is not intended to replace the medical advice of your doctor or health care provider. Please consult your health care provider for advice about a specific medical condition. This post was last reviewed on: 5/25/2017